Gretna Green Famous Blacksmiths Shop,  situated at the heart of Gretna Green village, is the world-famous, historic home of Gretna Green Famous Blacksmith Shop the anvil wedding and has been at the centre of runaway love, since the Marriage Act of 1754. Built, in 1713 Gretna Green Famous Blacksmiths Shop, is a traditional Blacksmith's Shop which it continued to be for over 100 years more - as the first stop over the border it soon became the go-to wedding destination for runaway lovers. Young couples looking to marry without their parent's consent. Gretna Green Famous Blacksmiths Shop,
is a symbol of enduring love and a truly unique and spine-tinglingly romantic place to wed, as you stand amidst over 260 years of history, you too can be a part of the unbroken thread of love that is woven throughout this magical Scottish wedding venue.              Gretna Green Famous Blacksmiths Shop,
Choose to marry in one of our three marriage rooms within the Gretna Green Famous Blacksmiths Shop, including the Original Marriage Room, where the Anvil Wedding began, all those years ago; the Rennison Room, named for the last 'Anvil Priest' or the old Saddlery Room at Gretna Green Famous Blacksmiths Shop,
Let the history of  Gretna Green Famous Blacksmiths Shop, and enchantment of young lovers fleeing to Gretna Green, capture your heart, and choose to marry in the Famous Blacksmiths Shop.
Location, location, location... when run-away weddings began the Blacksmiths Shop was the first building couples reached in Gretna Green.
Being right at the heart of the village, the now 'Famous' Blacksmiths Shop is at the junction of five old coaching roads, known as 'Headless Cross'. In those days, the village blacksmith was the lifeblood of any village, always at work making horseshoes, fixing carriages and farm equipment in his blacksmith's workshop.
When couples began eloping to Scotland, Gretna Green Famous Blacksmiths Shop, very quickly became synonymous, as a hotbed of scandal and intrigue with many daughters from respectable families choosing to flee here to "marry a scoundrel". The 'Anvil Priests' would perform the ceremony for "a wee dram or a few guineas" depending on your status and financial standing. The hammering of the anvil soon became a notorious sound; romantically it is said that like the metals he forged, the Blacksmith would join couples together in the heat of the moment but bind them for eternity.
Today as you pass through the narrow walls and low ceiling of Gretna Green Famous Blacksmiths Shop, you are touched by the atmosphere of this ancient building. You can just imagine hearing the voices of the frantic couple as they make their dramatic dash over the border claiming, "It must be tonight! It must be tonight!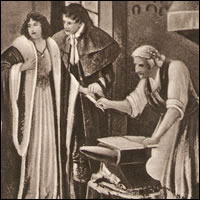 Due to the spectacular controversy caused by Gretna Green weddings, the Establishment continues to apply pressure to outlaw them. In 1856 Lord Brougham passes an act, which has a severe effect on the runaway trade. This act states, that if a couple wished to marry in Scotland one of them has to spend 21 days living here before marriage. This is commonly referred to as the "cooling off" act. Now locals in Gretna Green begin taking in lodgers and hay barns become places of residence too!
After 186 years of lobbying Scotland concedes to the demands of England and handfasting ceremonies, fondly known as 'Anvil Weddings', are outlawed. Now only the local Registrar can legally marry couples. In England you still have to be 21 years before you can marry without your parents' consent; in Scotland, if you are over 16, you are free to marry therefore English couples still elope to the Gretna Registrars and visit the Blacksmiths Shop for their 'blessing'. The 21 days 'cooling off' act is still in force.
In England and Wales, the age of consent is lowered to 18 (still two years difference) and the 'cooling off' act is repealed. Couples continue to take advantage of the two years difference and the romance of Gretna Green is as popular as ever with couples travelling to marry here from all over the world.
Although it is perfectly legal in Scotland for a member of the clergy to conduct a marriage ceremony outwith a church building this is a rare occurrence. Following in the footsteps of her grandmother, one young bride-to-be succeeds in finding a Church of Scotland minister who is prepared to marry the couple over the anvil in the Famous Blacksmiths Shop. Despite opposition, this historical event sets a precedent for other couples to marry in a religious ceremony outwith the church. The result is a renewed flow of couples to this romantic place.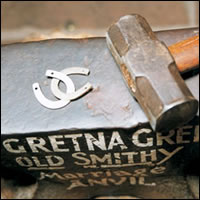 Another alteration to Scotland's Marriage Act allows civil ceremonies to take place in licensed premises.
Another law change: civil partnerships are now possible. The Famous Blacksmiths Shop now welcomes same-sex couples to celebrate their civil partnership in Gretna Green.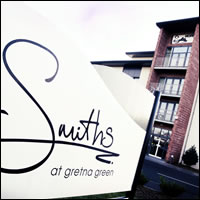 Smiths at Gretna Green, Scotland's newest 4-star boutique hotel  Built by owners of the Famous Blacksmiths Shop, the hotel marks a new era in Gretna Green weddings...a perfect twinning of the ancient and modern. The hotel receives rave reviews with its stylish modern banqueting suites and 50 bedrooms from deluxe double to Penthouse Apartment.
Gretna Green Weddings
Gretna Green has been a part of the history of weddings since 1754. It is the No.1 destination for weddings in the UK, offering a number of All-Inclusive wedding packages, to suit your budget.
We offer intimate weddings inside our Famous Blacksmiths Shop, but we can also offer other wedding venues in Gretna Green. You can find out about wedding costs using our online wedding calculator.
Also, we have an award winning 4-star luxury wedding venue to host your guests should they choose to stay at Smiths hotel and why not enjoy your wedding breakfast or reception in one of our function rooms? Recently we have added Greens at Gretna as part of our hotel portfolio.
Getting married at Gretna Green where weddings are very special and dreams can come true can be organised very easily with the help of our wedding planners and wedding team. We always have a great range of special offers on weddings running throughout the year which is great if you are on a budget. Check out our Smiths Hotel if you are looking for places to stay in Gretna Green.
Visiting
There's more - we're 'not just famous for weddings' there's shopping and online shopping too!
We are located just off the M74 motorway which makes us a popular destination for lots of visitors including international visitors to Scotland. Gretna Green visitor and shopping attractions is a place where you can just stop to stretch your legs, have something to eat and shop too. If you're planning a group visit, then see why we were awarded the UK's Most Coach Friendly Shopping Attraction 2012.
Be tempted to buy our popular range of beautiful Scottish gifts from our collection of gift shops, offering a variety of Scottish merchandise including our own-brand products. You can also shop online to purchase gifts and have them delivered anywhere in the world. And if you're hungry, taste the flavour of foods from Scotland in our Foodhall or our Blacksmiths Restaurant.
Afterwards, tour the museum and exhibition, and you might be lucky enough to see a bride and groom about to get married!
There is an outdoor play area for children too; there really is something for everyone